Cynthia Cradduck Appointed to State Jaycees Executive Committee
(SAVANNAH, GA) Cynthia Cradduck, a Savannah-based marketing and public relations professional, has been elected to the Georgia Jaycees' state executive committee, where she will serve as Vice President of Communications. She is joined on the executive committee by Danielle Fields, President; Katie Harris, Vice President of Community Development; Allen Farley, Vice President of Membership and Chad Brown, Chairman of the Board.
She is a junior partner at both Carriage Trade Public Relationsand Cecilia Russo Marketing, a collaborative arrangement in which she oversees operations for the two organizations. Her initiative took her from intern to junior partner in a three-year span, which was among the achievements that earned her a place on Georgia Trend's 2018 "40 Under 40."
Cradduck is a past president of the Savannah Jaycees, which she led during its 75th anniversary year. She also has been recognized with the Savannah Magazine/Savannah Morning Newsdesignation as a "Rising Star in Business."
A graduate of Georgia Southern University, Cradduck was one of six students to earn L.E.A.P. certification, which recognizes public relations professionals who have gone through Leadership, Experience in Communication, Academics and Professionalism training.
She also has completed professional training courses offered by the Dale Carnegieprogram and Toastmasters International. In addition, Cradduck serves as the administrator for Leadership Southeast Georgiaand supports several nonprofit organizations in Savannah, including the Ronald McDonald House of the Coastal Empireand Girls on the Run.
In her new role, Cradduck will be responsible for the Georgia Jaycees' internal and external communications, including its newsletter, website, press announcements and communications among its chapters. She will also be creating a chapter communications instruction guide which she will be presenting to the membership at their midyear convention.
The Jayceesis a leadership development organization that focuses on community involvement. This year, the state board held a major fundraiser to help provide financial resources for Out of the Darkness, a non-profit focused on battling human trafficking.
Jayceeschapters in Georgia include Athens, Atlanta, Columbus, Dahlonega, Gainesville, Gray, Milledgeville, Savannah, Statesboro, Swainsboro and Jesup.
"This is an exciting time to be involved with the Jaycees," Cradduck said. "Young professionals are rediscovering the power, value and fun of face-to-face networking and community-building through this organization, and I'm delighted to be part of it."
MORE ABOUT THE JAYCEES
Leadership development through community service has been the basis of the Jayceessince its inception in 1920. The mission of the not-for-profit organization is to provide development opportunities that empower young people ages 18-40 to create positive change. Members enhance a variety of leadership, management and communication skills as they work together to plan and run civic and individual development activities that bring about positive change in their home communities and through the world. To learn more about the Jaycees, visit www.georgiajaycees.comor http://www.jci.cc/usa.
MEDIA CONTACT
Cynthia Cradduck
VP of Communications
Georgia Jaycees
georgiajayceescommunication@gmail.com
912-856-9075
Savannah Jaycees Celebrate 75th Anniversary
(SAVANNAH, GA) The Savannah Jaycees have announced plans for their 75th Anniversary Gala set for Saturday, Oct. 21, in the ballroom in the Embassy Suites Hotel, 605 W. Oglethorpe Ave. Guests will enjoy live music, dinner and dancing.
As part of the event, the organization will present its Distinguished Service Award. This award was an annual tradition of the Savannah Jaycees for a number of years as a way to recognize a local resident who went above and beyond to embody the Jaycees creed "Service to Humanity is the Best Work of Life."
"For the past 75 years, the Savannah Jaycees have played a role in building a stronger community through professional development, community service and educational efforts," said Jaycees president Cynthia Wright. "We have a rich history and a long list of accomplishments to highlight during this anniversary celebration."
In the 1950s, the Jaycees were one of the main supporters of the city council-city manager form of government that Savannah has today and played an integral role in the installation of voting booths throughout Chatham County.
In the '60s, the group spearheaded efforts to build the Savannah Civic Center and raised funds for the Kicklighter School and Chatham Nursing home among other projects. The group, along with the U.S. Marine Corps and the Savannah Fire Department also launched the local version of the Marines' Toys for Tots program.
In the '70s, they held the "Jaycees Forum" on local television, as well as a weekly "High School Quiz Bowl" telecast. In the '80s, the Jaycees raised almost $50,000 for the renovation of the Forsyth Park fountain.
More recently, the organization initiated the Leadership NOW program, a lecture series featuring prominent members of Savannah sharing insights on leadership, management and professional skills. The Savannah Jaycees also organized the annual Charity Date Night Auction, the Mayoral Forum, the Surging Forward Community Picnic after Hurricane Matthew and "Done in a Day" projects. This year, they also launched the Junior Jaycees Program for area middle school students.
The public is invited to participate in the 75th Anniversary Gala to join the Jaycees in their celebration of past accomplishments.
"This is a way for us to honor our alumni's efforts, brag on our current members' projects and look forward to what the future will bring," said Wright.
The gala will be held in the ballroom of the Embassy Suites at 6 p.m. This event is black tie optional. Tickets for the event are $40 and can be purchased at https://www.eventbrite.com/e/savannah-jaycee-75th-diamond-anniversary-gala-tickets-37148480104?aff=es2
Sponsorship opportunities are available to support the organization's diamond anniversary and include tickets to the gala. For more information on sponsorship opportunities, email savannahjaycees@gmail.com.
For more information on the Savannah Jaycees or to become a sponsor of the gala, visit http://savannahjaycees.com
ABOUT THE SAVANNAH JAYCEES
The Savannah Jaycees is a nonprofit organization of young professionals, between the ages of 21 to 40, whose mission is to inspire leadership development through community involvement. The Savannah Jaycees have been an organization since 1942 and are celebrating their 75th anniversary this year. Among the Savannah Jaycees' projects were the installation of voting booths throughout Chatham County, spearheading efforts to build the Civic Center, helping to build the Kicklighter School and Chatham Nursing Home, founding Toys for Tots with the Marines and the fire department, renovating the Forsyth Fountain and creating Jaycees Park on Tybee Island. The United States Jaycees was founded in 1920 with a vision to be the leading global network of active young citizens. To learn more, visit http://savannahjaycees.com/ or https://www.facebook.com/savannah.jaycees
Savannah Jaycees Call for Nominations for 2017 Charity Date Night Auction Singles
The Savannah Jaycees is now accepting nominations for Savannah area singles to be featured in the 2017 Charity Date Night Auction. The fourth annual Charity Date Night Auction will be held on Thursday, July 20 at Savannah Smiles Dueling Pianos," located at 314 Williamson St, Savannah, GA 31401. The event will begin at 7 p.m.
Savannah Jaycees' selection committee will name ten men and ten women to participate in this charity event, raising money for 5 local nonprofit organizations. The Savannah Jaycees will also host a Mix & Mingle event prior to the auction on Thursday, June 22 from 5:30 p.m. to 7 p.m. announce all the auction participants and their charities.
To be considered, email nominations to the Savannah Jaycees at savannahjaycees@gmail.com. Nominations should include name, age, contact information, ideal date and an attached headshot.
Individuals may be nominated by friends and family. All applications will be reviewed by the Savannah Jaycees Charity Date Night Auction Nomination Committee.
If selected, participants will be auctioned off with a date package. This fourth annual charity event will take place from 7 p.m. to 10 p.m. on Thursday, July 20th, at Savannah Smiles and will benefit six local charities (Ronald McDonald House of the Coastal Empire; the Reed House; ArtRise Savannah; Blessings in a Bookbag; and One Love Animal Rescue. Since the first Charity Date Night Auction in 2014, the Savannah Jaycees have raised over $15,000 for local charities.
To kick off the festivities, a mixer will be held on Thursday, June 22 to announce all of the nominations. This mixer will take place from 5:30 p.m. to 7 p.m. at Savannah Cocktail Company. More information can be found at https://www.facebook.com/events/381644772229856/
For more information on this event or the nomination process, contact Rachel Bishop at savannahjaycees@gmail.com.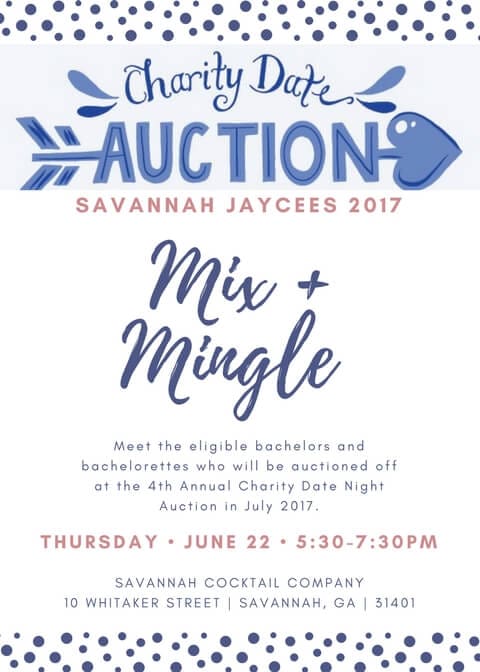 MORE INFORMATION ON THE SAVANNAH JAYCEES
The Savannah Jaycees is a nonprofit organization of young professionals, between the ages of 21 to 40, whose mission is to inspire leadership development through community involvement. The Savannah Jaycees have been an organization since 1942 and are celebrating their 75th Anniversary this year. Among the Savannah Jaycees' most notable projects were the installation of voting booths throughout Chatham County, spearheading efforts to build the Civic Center, helping to build the Kicklighter School and Chatham Nursing Home, founding Toys-for-Tots with the Marines and the fire department, renovating the Forsyth Fountain, and creating Jaycees Park on Tybee Island. The United States Jaycees was founded in 1920 with vision is to be the leading global network of active young citizens. To learn more, visit http://savannahjaycees.com/ or https://www.facebook.com/savannah.jaycees?ref=br_tf