Tagged:
teamine eye complex
(SAVANNAH, GA) Dr. Corinne Howington of Low Country Dermatology presented $500 to the Curtis and Elizabeth Anderson Cancer Institute at Memorial University Medical Center. This donation was made possible by proceeds raised during the inaugural skin cancer awareness excursion, "Melanoma, Take a Hike!"
The event took place through the scenic trails of Skidaway Island State Park during the high afternoon sun in recognition of Skin Cancer Awareness Month which is designated by the American Academy of Dermatology to raise awareness about the risk of skin cancer and increase the chances of early detection. Along the way, Dr. Howington and her staff shared prevention techniques for melanoma and answered questions from participants.
"With events like Melanoma, Take a Hike!, we hope not only to prevent skin cancer by teaching people how to protect themselves from harmful UV rays," said Dr. Howington, "but also to support those organizations, like the Anderson Cancer Institute, who are fighting cancer's devastating effects every day."
The Anderson Cancer Institute provides cancer screening, diagnosis, surgery, chemotherapy, radiation, support services and long-term follow-up for cancer patients. Their disease management teams specialize in breast, colorectal, urology, melanoma, thoracic, head and neck, upper gastrointestinal, and gynecologic cancers.
Dr. Howington is a board-certified dermatologist with expertise in medical, surgical and cosmetic dermatology. She and her staff also distributed SPF 30 sunscreen, which has been shown to prevent the onset of some types of skin cancer by 80 percent.
For more information on Low Country Dermatology, visit lcderm.com. For more information on the Anderson Cancer Institute, visit aci.memorialhealth.com.
ABOUT LOW COUNTRY DERMATOLOGY
Low Country Dermatology specializes in the treatment of adult and pediatric diseases of the skin, hair and nails. Dr. Corinne Howington is a board certified dermatologist with expertise in medical, surgical and cosmetic dermatology. Low Country Dermatology is located at 310 Eisenhower Dr. Suite 12A Savannah, GA 31406. For more information, visit lcderm.com.
Media Contact:
Cecilia Russo
Cecilia Russo Marketing
info@crussomarketing.com
912-665-0005
Please Meet Courtney Zechman
Courtney Zechman
Lead medical esthetician at Low Country Dermatology
How long have you been in the profession?
I graduated from the Aveda Institute of Covington, La., in 2011, and have been in the esthetics business for about six years.
What motivated you to get into this business?
I've always had a love for beauty, especially making women feel beautiful through makeup. When I started school, my goal was to become a makeup artist and eventually work in television and movies. I quickly discovered that I loved teaching women how to improve their skin through integrated skin care. Treatments I provide include facials, waxing, chemical peels, dermaplaning, Laser treatments and microneedling.
What are you most passionate about?
Educating not only my clients but my friends and family on proper sunscreen protection. A lot of women think the spf in their makeup and moisturizer is enough to stop the damaging effects of sun exposure, and a lot of men think they don't need spf because they aren't sun bathing.
What has surprised you most about working with Low Country Dermatology?
Realizing the difference in over-the-counter beauty products versus in-office cosmeceuticals. For the same price as some of the department store skin-care products, you can achieve noticeable results with products found in an esthetics or dermatology office.
What's the best thing to happen since you started working with Low Country Dermatology?
I can't explain how proud I get when my clients tell me they are getting compliments on their skin all the time after having treatments with me. My schedule continues to grow each month. Knowing that my clients are talking with their friends and peers about their experience with me continues to surprise and make me feel so proud of myself.
What do you think will change about dermatology over the next five years?
Cosmetic treatments will outweigh dermatology treatments in the future. Thanks to social media and technology as a whole, people are more aware and cautious of the sun and getting too much exposure. Instead of skin cancer treatment and prevention patients may be more inclined to treat aging and other cosmetic issues.
What are three things that might surprise someone about you?
1. I attended 13 different schools and have lived in nine different states.
2. I live an hour away in a small town called Ludowici, and my two older sisters live within walking distance of me.
3. I am a single mom of one handsome six-year-old boy named Oliver Bryan who is the 10th of 20 grandchildren.
What do you do when you aren't at the office?
You can usually find me at one of my sisters' houses. We are always together on the weekends for birthdays, ball games, parties or some other family gathering.
Where are you from?
I was born in Tacoma, Wash., and raised in northern Kentucky, but I call Georgia home.
Who has been your professional mentor?
When I was getting into the world of beauty professionally, a woman I was so inspired by was Kandee Johnson who was a professional makeup artist, single mom and YouTube blogger. She was so positive and uplifting during one of the hardest times in my life.
Dr. Howington is another of my professional mentors. If I feel lost or stumped with my clients, she is always there to guide me in the right direction.
Who is your hero?
My heroes are my sisters. They have helped me through some of the hardest times in my life, they consistently help with my son and they never ask anything in return.
What motivates you to work hard?
When I first started at Low Country Dermatology, I did not have a lot of confidence. I was used to working in spas making people fall asleep during relaxing facials, not treating acne and aging with chemicals. My clients are the ones who made me feel like I was doing something right every time they would reschedule month after month. I have learned to believe in myself and I am continuously pushing myself to learn more and achieve more in my career.
What is one thing you couldn't live without?
My family. I don't know what I would do without them.
Contact information:
Address: 310 Eisenhower Dr. Suite 12A Savannah, GA 31406
Phone: 912-354-1018
Website: lcderm.com
Is your skin taking a beating from stress?
by Courtney Zechman
How do you react to stress? Do you break out more, or does your rosacea flare up? Your emotions can affect your whole body and can have a powerful impact on your skin.
If your acne gets worse when you feel nervous, that's because your body releases stress hormones, including cortisol, which tells your sebaceous glands to produce more oil. Oily skin is more prone to acne and other skin problems. Stress can also worsen problems such as psoriasis, rosacea and eczema or trigger hives and other skin rashes.
Plus, skin problems themselves can be stressful. Some people are so embarrassed by their skin that they keep to themselves, which adds more stress and only worsens the problem.
Your body expresses emotions through many nerve endings connected to the skin just as it does through other organs, causing gastrointestinal symptoms, increased anxiety or hypertension. In fact, many skin disorders take their roots from — or place their roots in — the psyche.
The relationship between the emotions and the skin has inspired a new field of study called "psychodermatology," which examines those connections more closely than ever before. The new field evolved after scientists and medical experts determined that dermatology should have a more integrated approach with other fields such as psychology.
This thinking has widened the scope of treatment possibilities that now may include antidepressants, relaxation therapy or counseling to alleviate mood problems that might result from or cause skin problems.
You can't avoid stress, but you can try to reduce its effects on your body, as well as battle its symptoms on the skin. That includes developing a good skin care regimen, which should incorporate beneficial skin-care products as well as these essentials:
• Get enough sleep. Getting less than eight hours can cause fluid to pool below your lower eyelid area, causing puffiness. Make sure you shut off electronic devices an hour before you go to sleep and use the downtime to get calm and relaxed before bed.
• Drink water. You'll look dewy and fresh-faced if you drink eight glasses or more each day. Also consider drinking green tea for healthy antioxidants and eating fruits and vegetables with a high water content, such as cucumbers, tomatoes and celery.
• Practice deep breathing. This can help calm anxiety, which can cause skin issues to flare up. Breathing exercises can also help minimize the chances of getting a rash or hives when you are stressed. These exercises can also help with flushing and redness, which can happen when you breathe in short, shallow breaths, as is often the case during stressful situations.
Stress happens to everyone, and since you can't avoid your job, bills or life, the best thing to do is to learn to manage it. Remember to take care of your skin even if you're tired or stressed. Get enough sleep, along with some exercise. Both are important for your skin as well as the rest of your body. Take a few minutes to do something you enjoy, like reading or a long bath.
You also might want to consider a number of stress management techniques, such as breathing exercises, yoga, meditation and visual imagery.
Once you realize how your inner turmoil shows itself, you will be better equipped to use home and professional therapies to counter its not-so-pretty effects.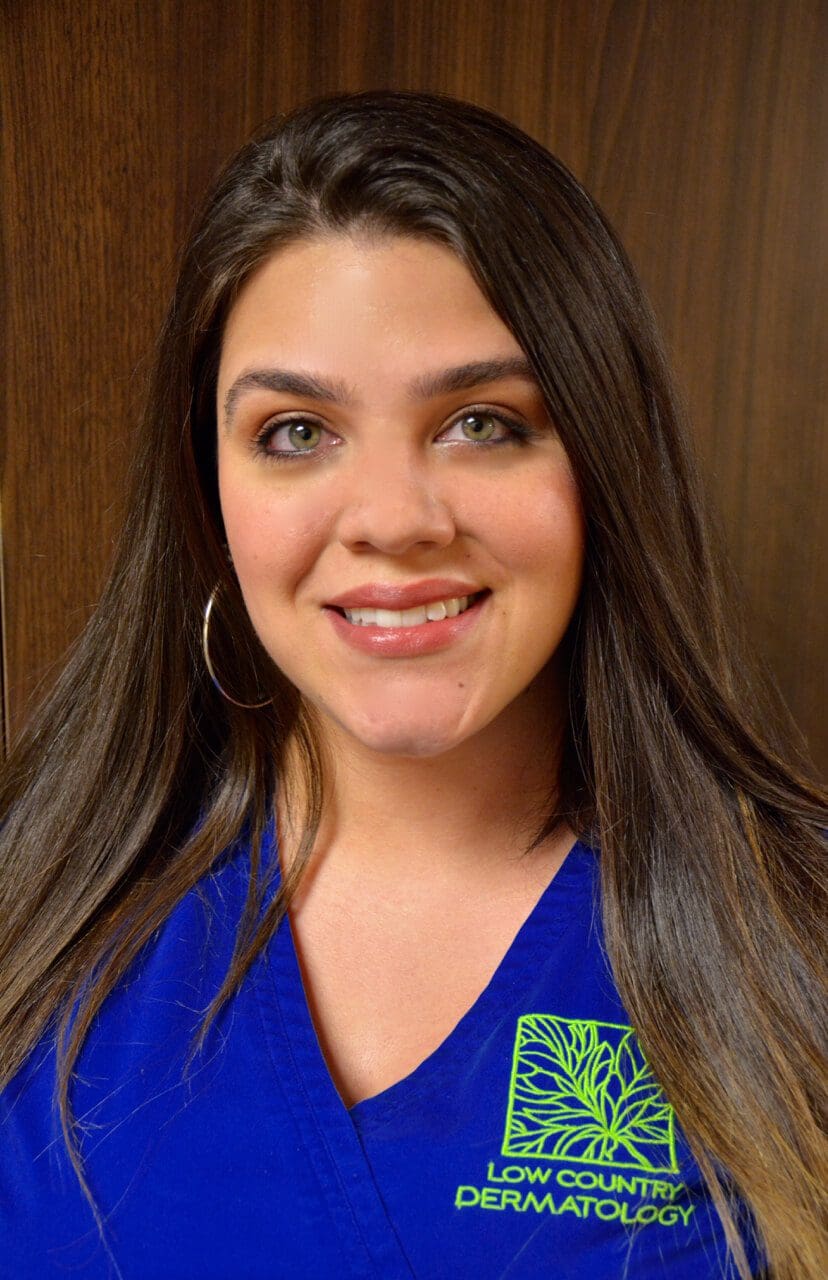 Courtney Zechman is the licensed esthetician at Low Country Dermatology, specializing in facials, SilkPeel Dermalinfusion, chemical peels, waxing, Dermaplaning, laser hair removal, and laser facial treatments. She can be reached at (912) 354-1018.