Horizons Savannah Announces Grab a Bag for Kids Event, Charity Luncheon and Purse Auction
(SAVANNAH, GA) Horizons Savannahannounces the 6th annual charity luncheon and purse auction called, Grab a Bag for Kids, will take place on Friday, November 9 from 11 a.m. to 1 p.m. at the Savannah Golf Club, located at 1661 E President St.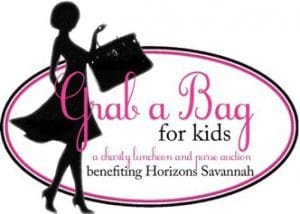 New for 2018, the event will host pop-up shops from Kendra Scott and Charleston Shoe Company with a portion of the sales benefiting Horizons. Featured bags includes gently-used vintage and new designer handbags, bags from new local designer Garland Bags, clutches, evening bags, totes, beach bags and leather backpacks.
A silent auction will kick off the event at 11 a.m. with lunch being served at noon. The tickets are $35 per person or $350 for a table of 10.
"This is the must-attend event of the Fall season," said Christy Edwards, Horizons SavannahExecutive Director. "It's a fun lunch that brings together our community to support Horizons Savannah, shop for some beautiful handbags, and new this year even purchase some great shoes and jewelry to match!"
Grab a Bag for Kids offers sponsorship opportunities for businesses as well. The different levels include Prada at $250, Dior at $500 and Chanel at $1,000. Donations are also still being accepted for the bag auction. For more information on sponsorship or donations, contact Christy Edwards at 912-961-8854.
For more information on the Grab a Bag for Kids charity luncheon and purse auction, visit http://www.horizonssavannah.orgor call 912-961-8854.
ABOUT HORIZONS SAVANNAH
Recognized as one of America's best summer learning programs, Horizons Savannahat Savannah Country Day School, Savannah Christian Preparatory School, Bethesda Academy and St. Andrew's School welcomes over 250 low-income students each summer to a six-week summer enrichment program that helps prevent "summer slide": the loss-of-learning that occurs during the summer. By providing a safe and nurturing environment, recreational and cultural activities, nutritious meals and snacks, caring professional teachers and creative, challenging instruction, we unlock a student's potential to achieve. During the program, students gain an average of two months' growth in reading and three months' growth in math. For more information, please contact Horizons SavannahExecutive Director Christy Edwards at 912-961-8854or info@horizonssavannah.org. You can also visit our website at http://horizonssavannah.org/, check out our Facebook page at https://www.facebook.com/horizonssav/.
Contact:
Christy Edwards, Executive Director
912-961-8854
info@horizonssavannah.org
Media Contact:
Elizabeth Poole
Cecilia Russo Marketing
912.695.4791
savannahpublicrelations@gmail.com