Tagged:
get rid of laugh lines around the mouth
New Treatment to be Unveiled at Low Country Dermatology Open House
Dr. Corinne Howington Holds School Supply Drive for Communities in Schools of Savannah
(SAVANNAH, GA) A new treatment designed to stimulate and remodel collagen and address common signs of aging will be announced by Low Country Dermatologyduring an open house on Thursday, Nov. 8.
Low Country Dermatologyis the only dermatologist office in the area certified to offer this new treatment known as CuteraSecret RF. The Secret RF microneedling device delivers heat into the deeper layers of the skin using controlled RF energy. This targeted energy revitalizes, rebuilds, and effectively remodeling collagen, improving mild wrinkles and diminishing scars while leaving the outer layer of skin intact.
Low Country Dermatologyalso offers other Cuteralasers including the Cutera's excel V and excel HR™ systems for hair removal and vascular conditions.
The open house will take place from 2 p.m. to 6 p.m. at the Low Country Dermatologyoffice at 310 Eisenhower Drive, Suite 12A.
Dr. Corinne Howington, of Low Country Dermatology, will perform live demonstrations to display how the new treatment is performed and consultations will be available. The other lasers will also be available for demonstrations and consultations.
"Every patient is unique, and because Secret RF is so versatile, we can work with each patient to customize their treatment," Howington said. "There is something powerful in seeing the way this technology affects your skin, which is why we wanted to have demonstrations for people."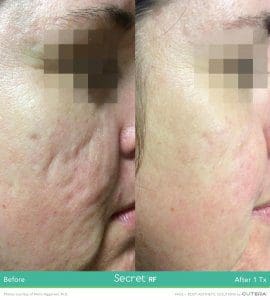 Guests are encouraged to bring donations for the Communities in Schools (CIS) of Savannah Kid's Closet. Wishlist requests include school supplies, basic needs items such as child-size boys/girls underwear, socks, undershirts, white uniform tops and khaki uniform bottoms. Sizes are from Children's size 6 – 14. All clothing items must be new and not used.
The CIS Kid's Closet was created to make sure that children in need have the uniforms, basic undergarments, school supplies, and personal hygiene products they need to attend school comfortably, and with dignity, so they may focus on learning. The organization currently serves over 400 students at Haven Elementary school and remains a resource to area middle schools and high schools.
Guests who bring a donation to CIS will receive a 10 percent discount on their first Secret RF treatment, and there will be giveaways for other treatments and skincare items. Light refreshments will be served.
For more information, please call (912) 354-1018 or visit lcderm.com.
ABOUT LOW COUNTRY DERMATOLOGY
Low Country Dermatologyspecializes in the treatment of adult and pediatric diseases of the skin, hair and nails. Dr. Corinne Howington is a board-certified dermatologist with expertise in medical, surgical and cosmetic dermatology. Low Country Dermatologyis located at 310 Eisenhower Dr. Suite 12A Savannah, GA 31406. For more information, call (912) 354-1018 or visit lcderm.com.
ABOUT CUTERA
Brisbane, California-based Cuterais a leading provider of laser and other energy-based aesthetic systems for practitioners worldwide. Since 1998, Cuterahas been developing innovative, easy-to-use products that enable physicians and other qualified practitioners to offer safe and effective aesthetic treatments to their patients. For more information, call 1-888-4CUTERA or visit www.cutera.com.
Media Contact:
Cecilia Russo
Cecilia Russo Marketing
info@crussomarketing.com
912-665-0005