Tagged:
Atlanta apartment communities
Kole Management Sells Apartment Portfolio, Focuses Solely on Property Management
(Savannah, GA) Savannah-based Kole Management Co. is in the process of selling its portfolio of 13 apartment communities in two states to transition exclusively into property management. In its new form, the company will retain management of eleven of those properties.
"We have decided to devote all our time and expertise to third-party management and look forward to providing the same boutique, quality service to our clients and residents as we did when we were owner/operators," said Kole ManagementCOO Khrista Villegas.
Kole Managementput its multifamily portfolio on the market in November, and all of its properties are under contract with closing expected in April and May. That portfolio consists of seven properties in Savannah, three in Macon and one each in Augusta and Canton, Georgia, and Charlotte, North Carolina.
"A number of factors, including historically low cap rates and broad investor interest in smaller market assets, came together to convince us that it was a good time to consider selling our portfolio," said Kole Management Co.President, Jeff Kole. "Until recently, we had little interest in selling and were, in fact, building a robust and highly capable management company to oversee properties for ourselves and third parties. This sale provides us the opportunity to focus exclusively on offering boutique yet sophisticated property management for a wide range of apartments – from lease-ups to workforce housing – across the Southeast."
The company expects to grow its multifamily property management portfolio with expansion into North Carolina and Florida, as well as additional properties in Macon. Details of those arrangements, as well as, the new positions brought on to support this growth, will be announced in the near future.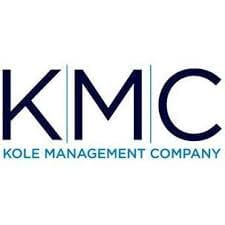 ABOUT KOLE MANAGEMENT COMPANY
Family owned since 1991, Kole Managementwas founded by Donald Kole, the former owner of the Builderama home supply store chain. In 1994, Donald's son, Jeff Kole, joined KMCand currently serves as president. What started as a small investment firm based in Savannah, Georgia, is now a rapidly growing third-party management enterprise, overseeing apartment communities throughout the Southeast. In addition to that, KMChas four warehouse distribution facilities equaling approximately 600,000 square feet. For more information on Kole Management, visit Kolemc.com.
MEDIA CONTACT
Marjorie Young
Carriage Trade Public Relations®
marjorie@carriagetradepr.com
912.844.9990
New Downtown Apartments in Savannah Hosts Grand Opening Celebration Benefiting Coastal Pet Rescue
(SAVANNAH, GA) Park + Broad, a new high-end boutique apartment community in the up-and-coming east side of downtown Savannah has selected Kole Management Company(KMC), a Savannah-based real estate management and investment firm, to manage the facility.
A benefit for Coastal Pet Rescue was held during the grand opening celebration and ribbon cutting on Thursday, June 28 at 5:30 p.m. Guests and residents were encouraged to bring pet food donations, and Park + Broadoffered to waive the pet fees for any resident who adopted an animal from Coastal Pet Rescuethis month. The Savannah Area Chamber of Commerce participated.
The 70-unit property at 1020 E. Broad St. offers one- and two-bedroom apartments with 15 floor plans, all of which maximize natural light. Pet-friendly and located within walking distance of Beasley and Forsyth parks, the units feature 12-foot ceilings, quartz countertops, stainless steel Frigidaire Gallery appliances and in-unit washer/dryers.
The community includes free gated off-street parking, a 24-hour fitness center, a saltwater pool area that includes a cabana with a fire pit and gas grills, a package locker system, available storage lockers and a bicycle storage and repair room.
"Park + Broad truly has it all," said KMC President Jeff Kole. "State-of-the-art amenities and conveniences, off-street parking and location in a redeveloping part of downtown Savannah that's close to area services, restaurants and entertainment."
Park + Broad is currently in lease-up and can be viewed at www.parkandbroadapts.com, or tours can be arranged at 912-657-0300. Raleigh-based Chaucer Creek Capital is the primary investor in the property, which was developed by DPJ Residential and built by Choate Construction.
In addition to managing Park + Broad, KMCowns and operates 13 apartment communities in Savannah, Charlotte, Atlanta, Augusta and Macon with a total of about 2,500 units.
ABOUT COASTAL PET RESCUE
Coastal Pet Rescue is a 501©(3) non-profit animal rescue organization dedicated to saving the lives of homeless, abused and neglected dogs and cats in Savannah and surrounding areas. Founded in February 2003, Coastal Pet Rescuechanges the lives of homeless pets in Chatham, Bryan and Effingham Counties through its foster home program and small capacity shelter, Camp Pawsawhile Retreat. For more information on Coastal Pet Rescue, visit coastalpetrescue.org.
ABOUT KOLE MANAGEMENT COMPANY
Kole Management Co. owns and operates eight apartment communities in the Savannah area, one each in Atlanta, Augusta and Charlotte and three in Macon with more than 2,500 total units. Residents of Kole Management apartment communities enjoy many benefits, including the ability to pay rent and request work orders online. The company employs more than 80 maintenance, management and leasing personnel, all of whom are local and able to assist residents with their immediate needs. Kole Management is a family-owned company with a 25-year tradition of owning and operating well-maintained apartment communities. For more information on Kole Management, visit Kolemc.com.
MEDIA CONTACT
Marjorie Young
Carriage Trade Public Relations®
marjorie@carriagetradepr.com
912.844.9990