Leadership Southeast Georgia Class of 2017 Provides "Hands Up" Scholarship for Three Regional Technical College Students
(HINESVILLE, GA) Members of the 2017 class of Leadership Southeast Georgia (LSEGA) provided a "hands up" scholarship for three worthy regional technical college students recently.
The Class raised $500.00 to help two students from Savannah Technical College in the areas of aviation and accounting and one student from Ogeechee Tech in the area of nursing have the necessary funds they needed to continue their course work. Without this assistance, each one of these students would have had to drop out of school until they could raise the necessary funds to cover tuition and fees.
"It is not surprising members of this class stepped up and decided to give a hand up to students who needed assistance. It's amazing how just a little bit of help makes such a great impact," said Ruel Joyner, LSEGA Chairman.
Dr. Kathy Love, who was present at LSEGA's 2017 graduation presentations, thanked the class on behalf of the students. "I know these students will never get the chance to personally thank each of you, but on behalf of Ogeechee Tech and Savannah Technical College, thank you so much for your generosity. Your efforts will make a difference."
For more information about Leadership Southeast Georgia, please visit lsega.com.
ABOUT LEADERSHIP SOUTHEAST GEORGIA
Leadership Southeast Georgia is a 501c3 regional five-month program designed to equip and empower community leaders to effectively work promoting positive growth while improving the quality of life in the Southeast Georgia Coastal region, which includes Bryan, Bulloch, Camden, Chatham, Effingham, Glynn, Liberty, Long, McIntosh, and Screven Counties. The class spends one weekend a month traveling to surrounding counties to learn about the impact of local issues such as healthcare, education, economic development and transportation. For more information, visit http://www.lsega.com/
CONTACT
Lee Beckmann
Leadership Southeast Georgia
LBECKMANN@gaports.com
MEDIA CONTACT
Marjorie Young
Carriage Trade PR
marjorie@carriagetradepr.com
912.844.9075
carriagetradepr.com
Bethesda Academy Held Annual Scholarship Gala to Celebrate Graduating Senior Class
(SAVANNAH, GA) The Fourth Annual Scholarship Gala for Bethesda Academy was held atThe Plantation Club at The Landings. This event supported the Gateway Scholarship Fund and celebrated Bethesda Academy's 22 seniors in the Class of 2017 the evening before they graduated.
The keynote speaker this year was President H. Michael Hughes, Ph.D., who addressed "The Future of Bethesda Academy." Overall, 95 percent of Bethesda Academy students graduate on time, and 85 percent of Bethesda Academy students go on to college.
"In our 2016 graduating class of 20 seniors, 19 went on to college, and one entered the Marine Corps," said Hughes. "This year, 22 Bethesda students are expected to graduate and at least two will be offered full college scholarships. We were very excited to celebrate their accomplishments and to express our goals for the upcoming year."
This year's Scholarship Gala was sponsored by Envirovac, South State Bank, THA Group, Seacrest Partners, enmarket, Visit Savannah, The Plantation Club, and The Kennickell Group.
For more information on the event, visit http://www.bethesdaacademy.org/giving/special-events/scholarship-gala/.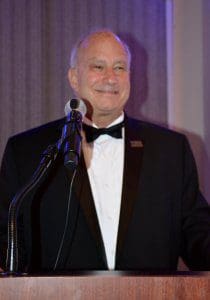 ABOUT BETHESDA ACADEMY
Founded in 1740, Bethesda Academy is the oldest child-care institution in the United States. Now it is a private boarding and day school for young men in grades six through twelve and is accredited by the Southern Association of Colleges and Schools. The 650-acre campus features a variety of athletic teams, a wildlife management and organic farming program and STEM curriculum. Through its "Lead The Way" initiative, students have access to exclusive integrated learning and leadership opportunities. For more information, visit www.bethesdaacademy.org or call 912.644.4376.
MEDIA CONTACT
Cynthia Wright
Carriage Trade PR
Cecilia Russo Marketing
cynthia.wright@carriagetradepr.com
912.856.9075
Gerald Smith (LEFT), the District Rotary Chairman for the Georgia Rotary Student Program (GRSP) recently presented a check for $1,814.50 to the Rotary Club of Savannah, which President Rick Monroe (RIGHT) accepted. Smith said, "The check is thanks for the chapter's stellar support of GRSP." The scholarship program pays tuition for international college students. This year the Rotary Club of Savannah is sponsoring Lizzy McGhee from Scotland.
The Rotary Club of Savannah is now comprised of 225 community leaders and volunteers. Over the past 100 years, The Savannah Club has championed local and regional developments including: completing the road to Tybee Island, improving the Savannah River for commercial traffic, enhancing the Dixie Highway system in southeast Georgia, and building bridges over the Savannah and Altamaha Rivers. The Rotary Club of Savannah also sponsored the organization of new Rotary clubs in Augusta, Brunswick, Statesboro, Blackshear, and Savannah West. Furthering the goals of Rotary International, the club has also supported wartime relief efforts, student scholarships, polio eradication and other global health initiatives.
Meetings are held most Mondays from 12:30 to 1:30 p.m., at the DeSoto Hilton Hotel, 15 E. Liberty Street. For more information, visit www.savrotary.org
Rotary Club of Savannah
P.O. Box 11105
Savannah, GA 31412
912-272-9711
MEDIA CONTACT
Cecilia Russo
Cecilia Russo Marketing
info@crussomarketing.com
912.665.0005