Peacock Subaru Hilton Head to host fall concert event featuring Cranford Hollow, supporting Palmetto Animal League
(SAVANNAH, GA) Join the cool cats (and dogs) of Palmetto Animal League for the 3rd Annual SubieStockconcert event supporting pet rescue from 5:30-7:30 p.m. on Thursday, Oct. 18, at Peacock Subaru Hilton Headat Peacock Auto Mallin Bluffton.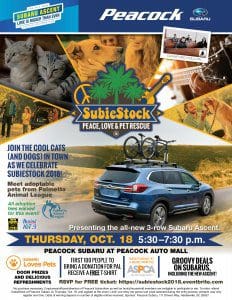 Guests will enjoy free food, beverages, groovy door prizes and live music from Cranford Hollow. Fee-waived pet adoptions will be available at the event, made possible through a generous grant from the ASPCA. PALwill be waiving adoption fees all day on Oct. 18, starting at noon with a SubieStockPre-Party at the PALAdoption Center in Okatie.
"As a Palmetto Animal LeaguePartner in Rescue, Peacock Subaruembraces our compassionate, no kill mission," said PALPresident Amy Campanini. "SubieStockis far more than just a great time. This event gives community members the power to save animals' lives by adopting, donating, or simply by spreading the word that homeless pets are lives worth saving!"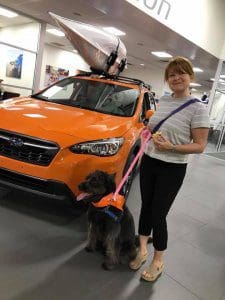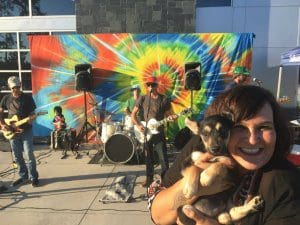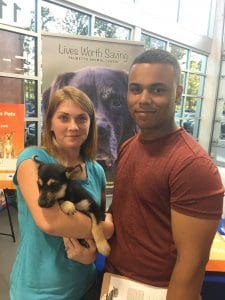 The first 100 people to arrive at SubieStockwith a pet supply or monetary donation for PALwill receive a free tie-dyed T shirt. The party is "BYOD" – Bring Your Dog – Guests are invited to bring their own dogs to the party, as Peacock Subaru Hilton Headis a dog-friendly dealership.
"Subaru Loves Pets is more than a motto," explains Jill Jauch, advertising and marketing manager at Peacock Automotive, which owns Peacock Subaru. "Helping homeless animals is something all of us at Peacock Subarucare about, as many of us have rescue pets of our own. We love meeting all of the dogs that our guests bring and watching them fall in love with the adoptable dogs, too."
Attendees may RSVP to be eligible for great door prizes at https://subiestock2018.eventbrite.com. "We're looking forward to our 'peace, love and pet rescue' event," said Jauch. "It furthers our 'Subaru Loves Pets' mission and helps support the great work that PALdoes in our community."
ABOUT PALMETTO ANIMAL LEAGUE
Palmetto Animal Leagueis a private, non-profit, no kill animal rescue organization that believes every animal deserves a second chance at life. PAL's Adoption Center, located in Okatie's Riverwalk Business Park, serves as a temporary residence for approximately 200 dogs and cats while they wait to find a loving home. This comfortable, upbeat facility is also home to PAL's Community Clinic, which offers spay/neuter, wellness exams, vaccines and other vital services to pet owners at affordable prices. In addition, Palmetto Animal Leaguemanages a network of loving foster families to house and care for abandoned animals and operates the PALThrift Store in Sheridan Park where great buys save lives. Join the No Kill movement at www.PalmettoAnimalLeague.org.
ABOUT PEACOCK AUTOMOTIVE
Peacock Automotiveowns and operates 24 automotive dealerships representing 31 brands in Georgia, South Carolina and Florida, employing more than 700 individuals. The company's headquarters are located at Peacock Auto Mallon U.S. 278, five miles east of I-95 at Exit 8 near Bluffton, S.C. The dealerships at the Auto Mall include Peacock Alfa Romeo, Peacock Maserati, Peacock Chrysler Jeep Dodge Ram Fiat, Jaguar Hilton Head, Land Rover Hilton Head, Peacock Subaru, Porsche of Hilton Head, Audi Hilton Head, Peacock Hyundai Hilton Head, Peacock Genesis of Hilton Head, Hilton Head Volkswagen and Peacock Used Cars & Trucks. Additionally, the company owns Peacock Hyundai Brunswick, Peacock Genesis of Brunswick and Peacock Chrysler Jeep Dodge Ram Brunswick in Brunswick, Ga., and Peacock Hyundai Savannah, Peacock Genesis of Savannah and Savannah Volkswagen in Savannah, Ga. Other holdings include Jaguar Columbia, Land Rover Columbia, Peacock Hyundai Columbia and Hyundai Genesis of Columbia. Its subsidiary, Peacock-Griffey Automotive, owns Peacock Ford in the Orlando area of Florida. Peacock Automotivealso owns and operates the Peacock Collision Center and the Wellness Institute in Bluffton, S.C., and Peacock Insurance in Savannah. Peacock Automotivewas awarded Business of the Year in 2017 from the Greater Bluffton, South Carolina, Chamber of Commerce. For more information about Peacock Automotive, call (843) 208-1258 or visit https://www.peacockautomotive.com/