(SAVANNAH, GA) COMMUNiTY HEADLiNES, May 7, 2018
Savannah's
COMMUNiTY HEADLiNES
The Local Newswire
---
---
(SAVANNAH, GA) Spend a day with us at TEDxSavannah. On 
May 11
, the event is at the Savannah International Trade & Convention Center's Oglethorpe Auditorium. Art, science, history, technology- all are explored by speakers with unusual perspective. Ferry over from downtown or enjoy free parking. Get tickets and learn more at 
tedxsavannah.com
---
THE PRESCRIPTION FOR LIFE: 4 PILLARS OF HEALTH
(SAVANNAH, GA) Dr. Evelyn Higgins will present a free lunchtime lecture on 
Tuesday, June 26
, during the second of four 2018 Encourage Health Education Series events in Savannah. Higgins will speak on The Prescription for Life: 4 Pillars of Health, which looks at health as more than just the absence of disease by investigating the physical, emotional, intellectual and spiritual elements of wholeness. The speech will be Livestreamed at Healthy Savannah's and Enmarket's Facebook pages. For more information, visit 
www.healthysavannah.org
.
---
HORIZONS GIVING DAY

(SAVANNAH, GA) Horizons Savannah is seeking the support of the Savannah community for Horizons Giving Day on 
Wednesday, May 16
. Horizons Savannah's goal of $50,000 will help close the opportunity gap for low-income Kindergarten through 12th-grade students in Chatham County and the greater Savannah area. The Horizons Savannah program includes six weeks of academics, project-based learning and swimming lessons each summer through partnerships with independent schools, colleges, and universities. For more information or to donate, visit 
https://www.horizonsgivingday.org/p2p/34238/cecilia-russo-turner
---
THE NINTH ANNUAL NIGHT OF CHAMPIONS
(SAVANNAH, GA), The Lowcountry Down Syndrome Society (LDSS) is hosting its 9th Annual Night of Champions. The event recognizes Savannah area employees who are differently-abled and excel in their workplace, with an additional acknowledgment of the employers who have given them the opportunity to work. The Night of Champions will be held at the Savannah International Trade Center on 
Thursday, May 10
. For more information on the event, visit 
nightofchampions.org 
---
LOW COUNTRY DERMATOLOGY WALK FOR MELANOMA AWARENESS
(SAVANNAH, GA) In recognition of Melanoma Awareness Month, Dr. Corinne Howington and Elizabeth Brennan of Low Country Dermatology will lead a melanoma awareness walk on Saturday, May 19th at 3 p.m. at Skidaway Island State Park. Howington and her staff will lead a three-mile hike along the park's scenic trails, sharing facts and prevention techniques for melanoma and taking questions. Registration for the event is $35, which includes the parking fee for the park. Proceeds will benefit the Curtis & Elizabeth Anderson Cancer Institute in Savannah. For more information, visit https://cityspin.com/savannah/e/melanoma-awareness-walk/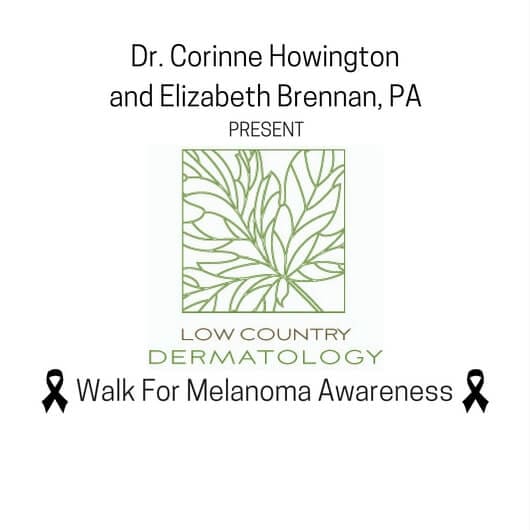 ---
BATTLING CYBERBULLYING
---
GREATER BLUFFTON CHAMBER COMMUNITY FUND
(SAVANNAH, GA)The Greater Bluffton Chamber has recently formed the Greater Bluffton Chamber Community Fund to help with scholarships, apprenticeships, special projects and small business assistance for the greater community. The fund will be managed by the Community Foundation of the Lowcountry and have just received their first donation from Peacock Automotive. Anyone may donate to the Greater Bluffton Chamber Fund. Please contact the Community Foundation of the Lowcountry by visiting its website at 
www.cf-lowcountry.org
 or 
https://www.peacockautomotive.com/
---
BETHESDA ACADEMY SCHOLARSHIP GALA
(SAVANNAH, GA) Bethesda Academy will host its Fifth Annual Scholarship Gala on 
Friday, May 18 from 6:30 to 9:30 p.m.
 at the Plantation Club at The Landings. The gala is open to the public, and tickets are $150.00. All proceeds from the gala provide assistance through scholarship funds for Bethesda students who would otherwise be unable to afford tuition. Bob Jepson Jr., chairman and chief executive officer of Jepson Associates Inc., will be the keynote speaker. To buy tickets, visit 
https://app.etapestry.com/cart/BethesdaAcademy/default/item.php?ref=1229.0.185029681
---
---
SCORE'S MAY BUSINESS LAUNCHPAD
(SAVANNAH,GA) SCORE announces its May edition of the popular Business Launchpad. It will be conducted on 
Saturday, 19 May
 from 
9 AM to 3:30PM
 in the SCORE conference room, 
111 E. Liberty St., Savannah
. All course materials and lunch will be included in the session fee. The course will be conducted by 5 SCORE mentors, and will cover the essential areas of starting a business, and for those already in business, how to keep it running smoothly and profitably. Call SCORE at (912)-652-4335 to register.
---
WORKSHOP & LUNCHEON BY DEWITT TILTON GROUP
(SAVANNAH, GA) The Dewitt Tilton Group hosted a luncheon workshop at the Savannah Golf Club for a presentation on "From Buying the Dirt to Obtaining the Permit: The Critical Steps to Starting a Commercial Construction Project." The event was intended for realtors, business owners, individuals in commercial construction and anyone with an interest in the field. For more information on the luncheon or on commercial construction, call (912) 777-3404 or visit 
http://www.dewitttiltongroup.com/
.
---
SOUTHEASTERN GUIDE DOGS WALKATHON AT PEACOCK AUTOMOTIVE
(JASPER COUNTY, S.C.) In support of Southeastern Guide Dogs, Peacock Automotive hosted a walkathon. The event was kid friendly and had local firefighters and a firetruck for children's interaction throughout the day. People were encouraged to bring their dogs. Southeastern Guide Dogs' services include breeding and training dogs, on-campus instruction and lifetime follow-up for graduates. They are provided at no cost to students and veterans. In line with the mission of Southeastern Guide Dogs, the Lions Club was on site with free vision testing for anyone who participated in the walkathon. For more information about the walkathon, visit 
https://guidedogswalkathon.org/savannah
. Visit the dealership online at 
www.peacockusedcars.com
 or call 843-208-1400.
---
GEMINI MAN WRAPS PRODUCTION
(SAVANNAH, GA) Savannah's latest feature film production, Gemini Man, has wrapped up its shooting schedule. Filming since October 2017, this particular film marks the largest show Savannah has hosted to date. Gemini Man stars Will Smith and Clive Owen and is set to hit theaters in the fall of 2019. The story is an action, sci-fi feature when an over-the-hill hitman faces off against a younger clone of himself. For upcoming Savannah Area Film Office projects, news, and events, visit 
https://www.savannahfilm.org/
---
FACEBOOK FRIENDS 
JOB POST: JUNIOR LEAGUE OF SAVANNAH 
(SAVANNAH, GA) Advertising Specialty Services, established in 1988 by Diana Morrison, recently celebrated 30 great years of service while unveiling a new logo and tag line, "Products with Purpose." Ad Specialty's mission to provide brand recognition for businesses, large and small, stays the same as the business strengthens its own brand. The showroom is located at 
402 E. Montgomery Cross Road
. For more information, visit
---
VIRTUAL SHOPPING
(AMAZON) Amazon now delivers to the trunk of your car:
---
SCORE'S INFLUENCE IN SAVANNAH
(SAVANNAH,GA) Reality, not theory. An independent annual Client Engagement Survey conducted by PricewaterhouseCoopers, has found that, in 2017, the Savannah Chapter of SCORE helped establish 166 new businesses and create 213 new non-owner jobs in the Savannah area. For more information about Savannah SCORE or to schedule a free mentoring session with a Savannah SCORE mentor, please go to 
https://savannah.score.org
.
---
LEADERSHIP
(SAVANNAH, GA) Applications for the 2018-2019 Leadership Savannah Class are currently being accepted.  This will be a one year class. To apply go to 
www.leadershipsavannah.org
 and click on the Apply button.
(SAVANNAH, GA) Rambam Day School presents the Memorial Day 5k Run/Walk at Kensington Park in Savannah, GA on 
May 28
. Event starts at 
8am.
 $35 to Register. To sign up:
(INC) Why This 1 U.S. City Is Tops for Successful Women Entrepreneurs:
---
CLOTHING CLOSET AT PARK PLACE OUTREACH
(SAVANNAH, GA) Park Place Outreach cut the ribbon on the Delta Sigma Theta Sorority, Inc. – Savannah Alumnae Chapter clothing closet so their teens can enjoy new, fashionable clothes, just like all teens. For more information, visit 
https://www.parkplaceyes.org/
---
JUNKLUGGERS HAUL DIRT
---
SCCPSS STUDENT FILM AND MEDIA FESTIVAL SELECTS CHARLES BOWEN AS EMCEE
(SAVANNAH, GA) Charles Bowen will emcee the first annual SCCPSS Student Film and Media Festival announced for 
May 16th at 6 pm
 at the Yamacraw Center for Performing Arts. This festival will showcase student films from elementary, middle and high school students throughout SCCPSS who won at the state level for the Georgia Student Film and Media Festival. Charles is the founder of The Bowen Law Group, the Savannah Film Alliance, and Southern Gateway Production Services. For more information, contact Mary Ann Rogers Lamberth at 
maryann.lamberth@sccpss.com
 and by phone at (912) 682-2651
---
INTRODUCING YETI
(SAVANNAH, GA) Yeti is a male dachshund/chihuahua mix who is currently living in foster care. He loves dogs, kids, kisses, and snuggling as well as walks and car rides. To view Yeti and other pets available for adoption, visit 
http://coastalpetrescue.org/adopt/view/2018-d-121-yeti/