(SAVANNAH, GA) COMMUNiTY HEADLiNES, April 30, 2018
Savannah's
COMMUNiTY HEADLiNES
The Local Newswire
---
---
WORKSHOP BY DEWITT TILTON GROUP
(SAVANNAH, GA) The Dewitt Tilton Group will host a luncheon workshop on 
May 3
 at the Savannah Golf Club for a presentation on "From Buying the Dirt to Obtaining the Permit: The Critical Steps to Starting a Commercial Construction Project." The event will take place from 
11:30 a.m. to 1 p.m.
 The event is intended for realtors, business owners, individuals in commercial construction and anyone with an interest in the field. Space is limited. For more information on the luncheon or on commercial construction, call (912) 777-3404 or visit
---
 GIRL SCOUTS HIGH AWARDS CEREMONY
(GIRL SCOUTS OF HISTORIC GEORGIA) High Awards Ceremony will be held on 
May 6
, from 
3:00 pm to 5:00 pm.
 Please RSVP for either the  
Augusta
, 
Albany
, 
Macon
,  
Columbus
, 
Savannah
, or  
Athens
 location. There is limited space in some areas, so to avoid duplicate registrations, please confirm whether your troop leader has registered your girl before making your reservation. Learn more at 
https://youtu.be/CPEjiG7rNlE
---
LEGAL QUESTIONS?
(SAVANNAH, GA) Bowen: 10 Legal questions small businesses don't always know to ask:
---
LOW COUNTRY DERMATOLOGY WALK FOR MELANOMA AWARENESS
(SAVANNAH, GA) In recognition of Melanoma Awareness Month, Dr. Corinne Howington and Elizabeth Brennan of Low Country Dermatology will lead a melanoma awareness walk on Saturday, May 19th at 3 p.m. at Skidaway Island State Park. Howington and her staff will lead a three-mile hike along the park's scenic trails, sharing facts and prevention techniques for melanoma and taking questions. Registration for the event is $35, which includes the parking fee for the park. Proceeds will benefit the Curtis & Elizabeth Anderson Cancer Institute in Savannah. For more information, visit https://cityspin.com/savannah/e/melanoma-awareness-walk/
---
LDSS 9TH ANNUAL NIGHT OF CHAMPIONS
(SAVANNAH, GA) The Lowcountry Down Syndrome Society will host its 9th Annual Night of Champions on 
Thursday, May 10, at 6 p.m.
 at The Savannah International Trade and Convention Center. The event will recognize differently-abled Savannah area employees who excel in their workplace and their employers. The evening will include dinner, a silent auction and a cash bar, with Jamie Deen and Allyson Harvin serving as the night's emcees. Business professional attire is requested. Individual tickets are $50, and tables of ten can be reserved for $500 at 
https://nightofchampions.org/
.
---
BETHESDA ACADEMY SCHOLARSHIP GALA

(SAVANNAH, GA) Bethesda Academy will host its Fifth Annual Scholarship Gala on 
Friday, May 18 from 6:30 to 9:30 p.m.
 at the Plantation Club at The Landings. The gala is open to the public, and tickets are $150.00. All proceeds from the gala provide assistance through scholarship funds for Bethesda students who would otherwise be unable to afford tuition. Bob Jepson Jr., chairman and chief executive officer of Jepson Associates Inc., will be the keynote speaker. To buy tickets, visit 
https://app.etapestry.com/cart/BethesdaAcademy/default/item.php?ref=1229.0.185029681
---
(OPEN FOR BUSINESS) Top Tips on Facebook Live with Cynthia Wright
---
GEMINI MAN WRAPS PRODUCTION
(SAVANNAH, GA) Savannah's latest feature film production, Gemini Man, has wrapped up its shooting schedule. Filming since October 2017, this particular film marks the largest show Savannah has hosted to date. Gemini Man stars Will Smith and Clive Owen and is set to hit theaters in the fall of 2019. The story is an action, sci-fi feature when an over-the-hill hitman faces off against a younger clone of himself. For upcoming Savannah Area Film Office projects, news, and events, visit 
https://www.savannahfilm.org/
---
JOB, CAREER OR CALLING? 
(FORBES) Meaningful work is important to almost everyone, regardless of what that work entails. Luckily, research suggests that experiencing your work as a calling instead of "just a job" largely comes down to changing your perspective. Read the full article at
https://www.forbes.com/sites/melodywilding/2018/04/23/do-you-have-a-job-career-or-calling-the-difference-matters/#32d05493632a
---
---
SOUTHEASTERN GUIDE DOGS WALKATHON AT PEACOCK AUTOMOTIVE
(JASPER COUNTY, S.C.) In support of Southeastern Guide Dogs, Peacock Automotive hosted a walkathon. The event was kid friendly and had local firefighters and a firetruck for children's interaction throughout the day. People were encouraged to bring their dogs. Southeastern Guide Dogs' services include breeding and training dogs, on-campus instruction and lifetime follow-up for graduates. They are provided at no cost to students and veterans. In line with the mission of Southeastern Guide Dogs, the Lions Club was on site with free vision testing for anyone who participated in the walkathon. For more information about the walkathon, visit 
https://guidedogswalkathon.org/savannah
. Visit the dealership online at 
www.peacockusedcars.com
 or call 843-208-1400.
---
ENCOURAGE HEALTH GRANT: 
LOOP IT UP SAVANNAH
(SAVANNAH, GA) At the first of four presentations during the 2018 Encourage Health Education Series, Loop It Up Savannah was presented with a $1,000 grant to be used for art supplies and food for after-school programs. At the luncheon, Dr. Luke Curtsinger discussed The Blue Zone and how its nine life-guiding principles can promote longevity, well-being and overall happiness. During each presentation, a local nonprofit organization will receive a $1,000 Encourage Health grant to support their programs promoting healthy living, active lifestyles or nutritional education. For more information, visit 
http://enmarket.com/enmarket-encourage-health-series/
---
PARK PLACE OUTREACH RECEIVES DONATION
(SAVANNAH, GA) Park Place Outreach Youth Emergency Shelter received over $3500 from 100+ Women Who Care, an organization dedicated to helping the community find at least 100 or more women to each contribute $100 on a quarterly basis to charities located in the Savannah/Chatham area. To learn more about Park Place Outreach and how it puts donations like these to use, visit 
http://parkplaceyes.org
 or find Park Place Outreach – Youth Emergency Shelter on Facebook.
---
JOB POST: JUNIOR LEAGUE OF SAVANNAH 
(SAVANNAH, GA) The 
Junior League of Savannah
 (JLS) seeks to hire a part-time bookkeeper. JLS is a nonprofit organization of women committed to promoting voluntarism, developing the potential of women, and improving communities through the effective action and leadership of trained volunteers. Its purpose is exclusively educational and charitable. Additional information about JLS is
---
PRODUCTS WITH PURPOSE
(SAVANNAH, GA) Advertising Specialty Services, established in 1988 by Diana Morrison, recently celebrated 30 great years of service while unveiling a new logo and tag line, "Products with Purpose." Ad Specialty's mission to provide brand recognition for businesses, large and small, stays the same as the business strengthens its own brand. The showroom is located at 
402 E. Montgomery Cross Road
. For more information, visit
---
THANK YOU FOR FIGHTING BREAST CANCER
---
FELDER & ASSOCIATES BREAKS GROUND
(SAVANNAH, GA) The Pooler Catholic Community has been raising money to build a facility in the Pooler area. Corpus Christi Catholic Mission kicked off the eight-month construction process with a ground blessing and a groundbreaking. The ceremony, led by Bishop Gregory John Hartmayer, OFM, Conv. of the Diocese of Savannah, was held at the construction site located at 
1745 Benton Blvd
. off Pooler Parkway. The $4.2 million project is expected to be complete by early December 2018. Felder & Associates was selected as the lead architect and R. W. Allen was chosen as a commercial general contractor for the project. For more information, visit
---
JUNKLUGGERS E-WASTE RECYCLING 
AT EARTH DAY FESTIVAL
(SAVANNAH, GA) Savannah's annual Earth Day Festival was held in Forsyth Park. Junkluggers of the Coastal Empire had a special exhibit where they collected electronic waste, such as computers, televisions, monitors, printers, fax machines, small household appliances, and cell phones. The Earth Day Festival also included free workshops, including one from Trevor Hess, the owner of Junkluggers, presenting "Waste to Wealth: How to Use the Three R's (Reducing, Reusing and Recycling) to Your Advantage." For more information, visit 
www.earthdaysavannah.org
. To view Cynthia Wright's interview from the Earth Day event with Trevor Hess, visit 
https://www.facebook.com/CarriageTradePublicRelations/videos/1496076253848737/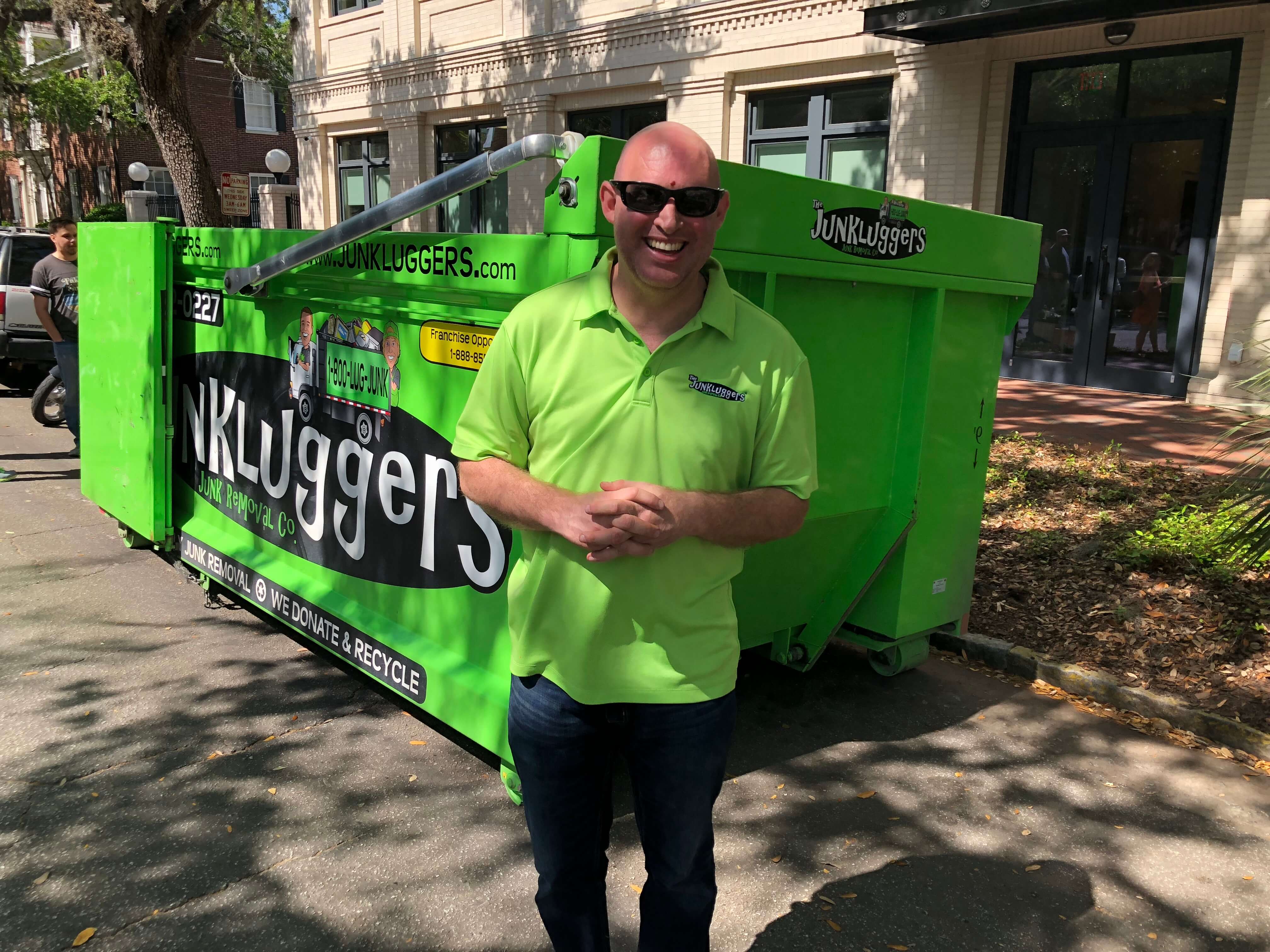 HUBBARD JOINS HOSPICE SAVANNAH FOUNDATION 
(SAVANNAH, GA) Hospice Savannah Foundation recently named its officers and directors for 2018-19. Sam Hubbard, founder and managing director, Coastal Capital Management, joins the non-profit board. Hospice Savannah provides services and resources on living with a life limiting illness, dying, death, grief and loss. For more information on the non-profit, visit 
http://www.savannahnow.com/business/20180413/newsmakers
---
FREE ORAL CANCER SCREENINGS IN APRIL
(SAVANNAH, GA) In recognition of April being Oral Cancer Awareness Month, Dr. Angela Canfield of Sandfly Family Dental in Savannah and Premier Dental Designs in Rincon will offer free oral cancer screenings throughout the month at both of her offices. These exams normally cost up to $80. The oral cancer screening is noninvasive and takes less than 10 minutes. By using a VELscope to shine a visible blue light in the mouth, Canfield's staff will be able to detect suspicious tissue that is abnormal. While the screenings will be free, an appointment is necessary. For more information visit 
https://carriagetradepr.com/free-oral-cancer-screenings-in-april/
---
5 SKILLS FOR LAUNCHING YOUR OWN STARTUP

---
SCORE'S INFLUENCE IN SAVANNAH
(SAVANNAH,GA) Reality, not theory. An independent annual Client Engagement Survey conducted by PricewaterhouseCoopers, has found that, in 2017, the Savannah Chapter of SCORE helped establish 166 new businesses and create 213 new non-owner jobs in the Savannah area. For more information about Savannah SCORE or to schedule a free mentoring session with a Savannah SCORE mentor, please go to 
https://savannah.score.org
.
---
LEADERSHIP
(SAVANNAH, GA) Applications for the 2018-2019 Leadership Savannah Class are currently being accepted.  This will be a one year class. To apply go to 
www.leadershipsavannah.org
 and click on the Apply button.
PINWHEELS FOR PREVENTION
(SAVANNAH, GA) In observance of National Child Abuse Prevention month, Greenbriar Children's Center and Park Place Outreach recently planted 120 blue pinwheels in front of the Forsyth Park Band Shell which serves as a visual representation of the freedom that is desired for each child. In addition, Mayor Eddie DeLoach signed a proclamation in honor of the contributions made by these two non-profits toward the prevention of child abuse in Savannah. Learn more about either organization or ways to volunteer at 
http://www.greenbriarchildrenscenter.org/
 and 
https://parkplaceyes.org/
---
LDSS ANNOUNCES 2018 BOARD OF DIRECTORS
(SAVANNAH, GA) Lowcountry Down Syndrome Society (LDSS) is pleased to announce its 2018 board of directors. Officers include Tom Kenkel, president; Dr. Ben Spitalnick, vice president; Michael Holton, Jr., secretary; Brian Hussey, treasurer; and Candy Bogardus, past president. They are joined on the board by Jason Ambrose, John Bogardus, Jamie Deen, Joe Marchese, Harris Martin, Kristin Nyce, Traci Shreck, and Stephen Greene. LDSS has grown from a group of four families who banded together in April 2006, with a shared experience of having a family member with Down syndrome, to a society that has attracted thousands of parents, children, advocates, community volunteers and corporate supporters. For more information visit 
https://carriagetradepr.com/lowcountry-down-syndrome-society-2018-board-of-directors/
RAMBAM 5K
(SAVANNAH, GA) Rambam Day School presents the Memorial Day 5k Run/Walk at Kensington Park in Savannah, GA. Event starts at 
8am.
 $35 to Register. To sign up:
---
DERBY PARTY FOR REED-HOUSE
(SAVANNAH, GA) 2018 Art & Derby Party Friend & Fundraiser for Reed-House, Inc. will be held 
Saturday, May 5, 2018
, from 
5 pm to 8 pm
 at the Savannah Botanical Garden. Live Derby coverage, delicious fare provided by Elizabeth's on 37th, Mint Juleps, plein air artists, auction and much more! Tickets $45 available at 
https://www.reed-house.org/
---
THE RIGHT FEEDBACK
(INC) Forget the Year-End Performance Review: This Feedback Technique Is Far More Effective
---
(SAVANNAH, GA) Spend a day with us at TEDxSavannah. On 
May 11
, the event is at the Savannah International Trade & Convention Center's Oglethorpe Auditorium. Art, science, history, technology–all are explored by speakers with unusual perspective. Ferry over from downtown or enjoy free parking. Get tickets and learn more at
---
WOMEN'S NETWORK

(SAVANNAH, GA) Lowcountry Ladies Luncheon will be held on 
June 1st
 at EmployAbility in Savannah. The event is intended to help support local women owned businesses and to help women network in effort to grow personally and professionally. Registration is now open, and seating is limited. Tickets are $30 each and can be purchased online at
---
(SAVANNAH, GA) The Ronald McDonald House Charities of the Coastal Empire announce plans for Wine, Women & Shoes on 
Thursday, May 3 from 5 – 7 p.m.
 at the Hyatt Regency, Downtown Savannah. The evening includes wine tasting, savory hors d'oeuvres, designer shopping, raffles, and more. Proceeds from the event support programs that directly enhance the health and well-being of children and families. General admission tickets are $75 and may be purchased at  
http://www.winewomenandshoes.com/event/savannah/ 
---
SAVE THE DATE FOR QUESTFEST
(SAVANNAH, GA) This July, Girl Scouts from around the country will once again travel to historic Savannah for an adventure unlike any other. Girl Scouts of Historic Georgia (GSHG) is hosting QuestFest, a weekend of fun adventure, challenges and entertainment from 
July 12-15
, in the historic home of Girl Scouting. Last year, there was over 1,000 Girl Scouts in attendance. For more information, visit
---
SCCPSS STUDENT FILM AND MEDIA FESTIVAL SELECTS CHARLES BOWEN AS EMCEE
(SAVANNAH, GA) Charles Bowen will emcee the first annual SCCPSS Student Film and Media Festival announced for 
May 16th at 6 pm
 at the Yamacraw Center for Performing Arts. This festival will showcase student films from elementary, middle and high school students throughout SCCPSS who won at the state level for the Georgia Student Film and Media Festival. Charles is the founder of The Bowen Law Group, the Savannah Film Alliance, and Southern Gateway Production Services. For more information, contact Mary Ann Rogers Lamberth at 
maryann.lamberth@sccpss.com
 and by phone at (912) 682-2651
---
INTRODUCING SIMBA
---
---