Southern Coast Heart Ball Raises $260K for the American Heart Association
Southern Coast Heart Ball Sponsored By Peacock Automotive Raises $260K for the American Heart Association
(HILTON HEAD ISLAND, S.C.) The American Heart Association–Southern Coast has raised $260,000 to benefit the organization's mission to fight and prevent heart disease and stroke in the Savannah and Hilton Head Island areas.
The funds were raised at the organization's 21st Annual Heart Ball of the Southern Coast attended by more than 500 people on Feb. 3 at the Westin Hilton Head Island Resort and Spa.
"If you don't think this disease can touch everyone, believe me, it can," said Warner Peacock, president and CEO of Peacock Automotive, whose son, Landon Peacock, had a heart incident when he was 21 years old. "My family and I personally know the importance of supporting the mission of this organization."
Peacock's Audi Hilton Head dealership was the legacy sponsor for this year's gala, as it has been for several of the Southern Coast Heart Ball events. The dealership is located at the Peacock Auto Mall on U.S. 278 in Jasper County, S.C.
Landon Peacock also served as the 2018 Open Your Heart chair to bring community and philanthropic leaders together to celebrate the mission of the local group. The evening of dining, dancing, live entertainment and fundraising auctions was supported by Hilton Head Regional Healthcare and was emceed by Dr. Terri Hubbard and Dr. Atul Gupta. The event also recognized Maggie Maine, the 2018 Open Your Heart Honoree who was born with a congenital heart defect.
A number of luxury items were donated for the event's auction, including cultural trips to Spain, a Bahamas vacation and the chance to be named in a Mary Kay Andrews novel. Proceeds will be used to further cardiovascular disease research, to improve the lives of local residents and to provide community education about the risks of cardiovascular disease and strokes.
Cardiovascular disease is the leading cause of death for both men and women in the United States while stroke is the fifth leading cause of death and the leading cause of serious, long-term disability. Nearly 2,200 Americans die of heart disease each day.
The American Heart Association is the nation's oldest and largest voluntary health organization. To learn more about the American Heart Association Southern Coast or Southern Coast Heart Ball, please call (843) 540-6338 or visit southerncoastheartball.heart.org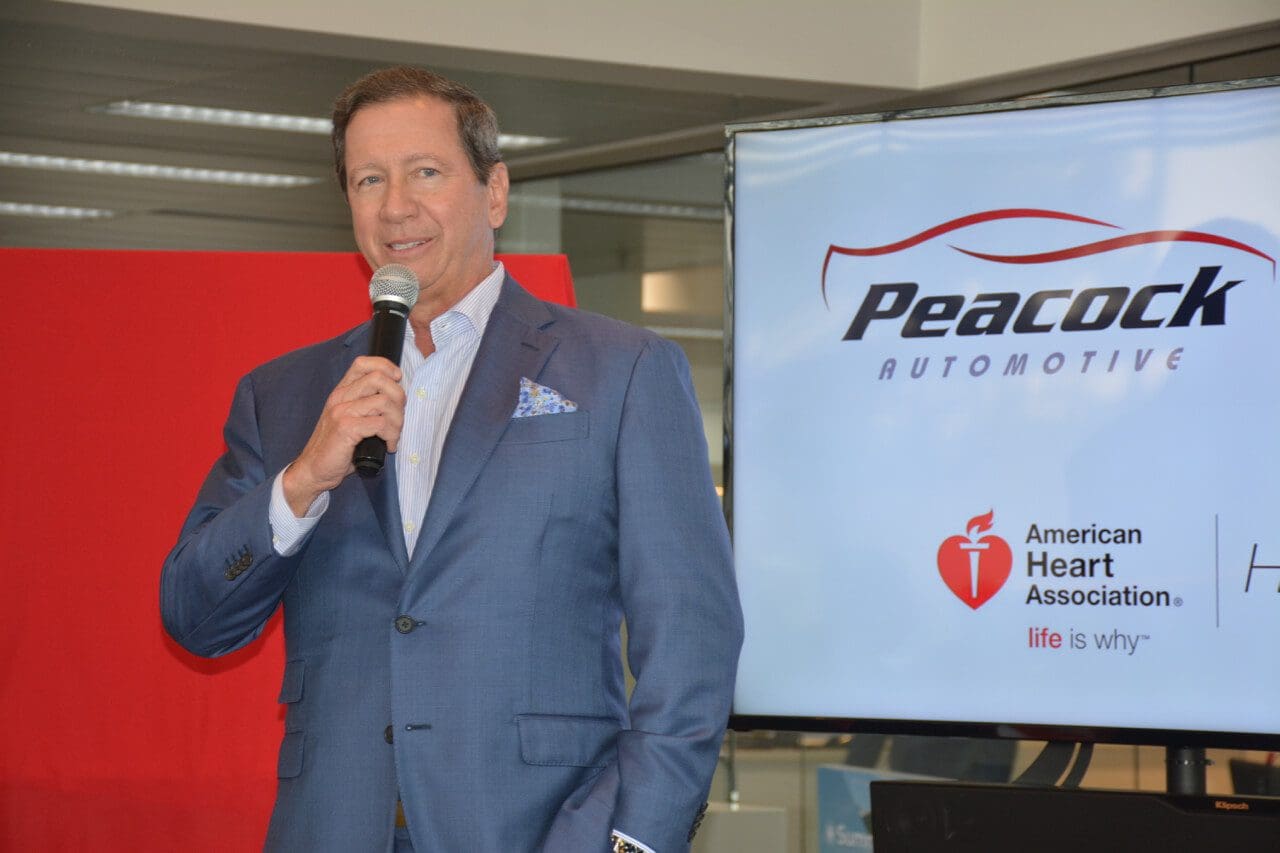 ABOUT PEACOCK AUTOMOTIVE
Peacock Automotive owns and operates 20 automotive franchises in Georgia, South Carolina and Florida and employs more than 600 individuals. The company's headquarters are located at the Peacock Auto Mall that covers 45 acres on U.S. 278, five miles east of Interstate 95 at Exit 8 in South Carolina. Fifteen brands are featured at the Auto Mall, including Alfa Romeo, Audi, Chrysler, Dodge, Fiat, Genesis, Hyundai, Jaguar, Jeep, Land Rover, Maserati, Porsche, Ram, Subaru and Volkswagen. Additionally, the company owns Savannah Volkswagen, Alfa Romeo & Fiat of Savannah and Jaguar Land Rover Columbia in Columbia, S.C. Its subsidiary, Peacock-Griffey Automotive, owns Peacock Ford in Orlando, Fla. Peacock Automotive also owns and operates the Peacock Collision Center and the Wellness Institute in South Carolina. For more information about Peacock Automotive, call (843) 208-1258 or visit https://www.peacockautomotive.com/
MEDIA CONTACT
Jill Jauch
Advertising and Marketing Manager
912-507-7171
jj@peacockautomotive.com
MEDIA CONTACT
Jennifer Waites
Director of Marketing Communications
(803) 665-0120