(SAVANNAH, GA) COMMUNiTY HEADLiNES, June 12, 2017
Savannah's
COMMUNiTY HEADLiNES
The Local Newswire
---
RIBBON CUTTING FOR CINNAMON BEAR

(SAVANNAH, GA) The Cinnamon Bear Stores, a family-owned group of high-end gift markets serving the Southeast for more than 20 years, will open its fifth location on 
Tuesday, June 13
, at Twelve Oaks Shopping Center, 5500 Abercorn St. A ribbon-cutting ceremony will be held at 
11:30 a.m.
; food and refreshments will be available for guests. To celebrate the grand opening, Cinnamon Bear's owners will donate a percentage of total sales for the month of June to the Marne Community and Spouses' Club of Fort Stewart/Hunter Army Airfield and will offer a 15 percent discount during the grand opening day to those with a valid military ID. For more information, visit 
https://cinnamonbearstores.com
---
WEBSITE LAUNCHED
(SAVANNAH, GA) 
First Presbyterian Christian Academy
 in Hinesville, Ga., is pleased to announce the launch of its new website, 
http://fpcahinesville.com/
. Designed by 
Speros
, a full-service technology company headquartered in Savannah, the site features up-to-date technology and easy functionality that allow school administrators to make their own routine updates. For more information, visit 
speros.com
---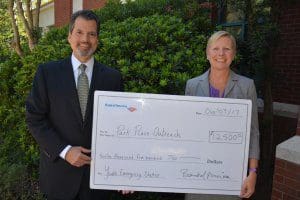 ---
LEADERSHIP PRESENTATION
(SAVANNAH, GA) Pictured from left to right are Toby Browne Jr., vice president of the Exchange Club of Savannah, Michael Hughes, president of Bethesda Academy and Larry Reid, president of the Exchange Club. Hughes discussed his vision for the future of Bethesda Academy and the new direction the curriculum will take in 2018 when it will focus intensely on #LEADERSHIP. For more information, visit http://www.bethesdaacademy.org
---
APPLY FOR LEADERSHIP SAVANNAH
(SAVANNAH, GA) Applications are now being accepted for Leadership Savannah 2017-18. To apply, visit  
www.leadershipsavannah.org
 and click on the Apply button. Applications will be accepted through 
June 23
.
---
SMALL BUSINESS COUNCIL SMART LUNCHEON
(SAVANNAH, GA) The Small Business Council Smart Luncheon is 
Tuesday, July 11
 in the Savannah Morning News Auditorium. Networking begins at 
11:30 a.m.
, lunch and program begins at 
noon
. Paula Kreissler, director of Healthy Savannah and Encourage Health, will present How to Maintain a Healthy Lifestyle While Working a 9-to-5-Job. $12 for Chamber members only. For details, visit 
http://www.savannahchambernews.com/events/small-business-council-smart-luncheon-july-11/
---
YOUTH PASTOR TO ENTREPRENEUR
---
CAMP BUDDY EFFINGHAM

(EFFINGHAM, CO.) The Lowcountry Down Syndrome Society (LDSS) will host their ninth annual Camp Buddy summer camp in Effingham County from 
Monday, June 26
, through 
Friday, June 30
. Camp Buddy runs from 
8:30 – 11:30 a.m.
 for kids ages 3 – 
7 and 11 a.m.
 – 
3 p.m.
 for kids over the age of 7. For more information, visit 
http://www.ldssga.org/
Camp Buddy in Chatham Co. will begin in July.
---
GAME-CHANGING TIPS FOR GETTING DIVORCED
(SAVANNAH, GA) Going through a divorce? Sam Hubbard of Coastal Divorce Advisors shares his four game-changing tips for those in the midst of a divorce. To ensure a successful outcome, you'll need steady financials, a team of experts, a fair mindset and a strong focus. For more tips and suggestions, check out
---
SPONSORS FOR ENMARKET BRIDGE RUN  
(SAVANNAH, GA) The 2017 Enmarket Bridge Run is calling for sponsors. Taking place on December 2, this annual race over Savannah's Talmadge Bridge is known as "the South's toughest bridge run." Participants can look forward to medals for all races, a costume contest, live music, free beer and Brunswick stew as part of the Michelob Ultra Post-Race Party, presented by Host South. For more information about event and corporate sponsorships, please contact Ben Wilder at BWilder@VisitSavannah.com or 912.644.6414
---
SUSTAINABLE COAST CONFERENCE 
(SAVANNAH, GA) The Center for a Sustainable Coast is hosting a celebration and conference on 
Saturday, June 17
, to acknowledge 20 years of protecting Georgia's coast. The program will discuss a retrospective of Georgia's coastal issues and the profound challenges that lie ahead. This year's keynote speaker will be Professor Geoffrey Heal discussing "How Neglecting Nature Threatens Our Prosperity." The event is open to the public. Fee is $20 and includes buffet. RSVP here: 
912-506-5088
,   
https://www.facebook.com/Center-for-a-Sustainable-Coast-141003446180/timeline/
 and 
www.sustainablecoast.org
---
KEEP UP WITH VIDEO CALLING